Grey Poupon wrote:it looks like assassins creed origins but with nothing in it
I make sure to never take pics where there's any monsters...I have no combat pics of this game in all my like 500 pics i took since i started playing. But god knows most of the maps are loaded with them. There are 964 different types of monsters/enemies/animals for you to kill in this game (well some of those are inanimate things to destroy) overall this game is a slaughter fest in a month of playing you'll probably kill 50 000 npcs at least...and that's probably a low estimate, game tells me i've killed 36 000 in the last month and half or so and i spend most of my playtime in the game NOT killing enemies... Also, out of towns, not many friendly npcs, and in the desert region even players are almost absent, nobody goes to that part of the map or barely, it's one of those games that makes expansions that become kind of useless once you've done all the quests/gathered all the stuff in it. Well there's grind spots but otherwise that's about it.
Anyway to continue, probably the least interesting sequence of pics i have of the region
when at last i made it past the canyon i came to a small farmland and i took the time to rest next to sp,e nice tree, there beyond finally laid the black desert. Which wasn't black at all. But then again maybe it was just a trick of the light.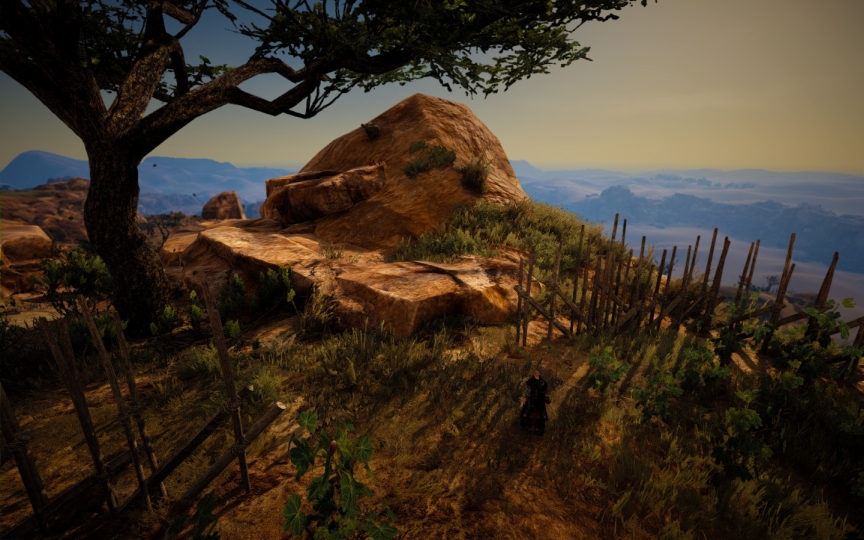 right below the farmland, Sand Grain Bazaar, doesnt look like much from above, isn't actuallty much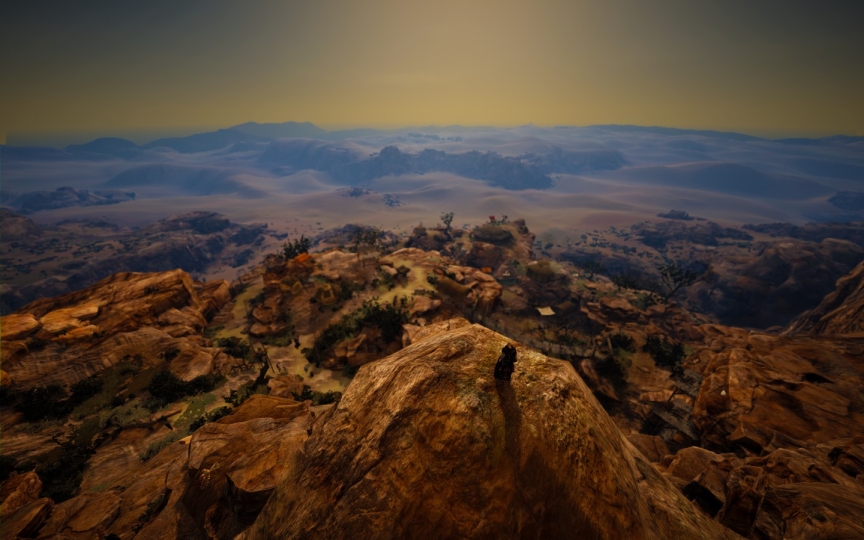 I took a pic of this little area of it as you can purchase these houses that are IN A CAVE!!! if you SOMEHOW feel like living at the edge of a desert in a place where there's no marketplace. Not to mention the houses are tiny and have no windows save for the front tiny one. But they're houses in a cave which is neat.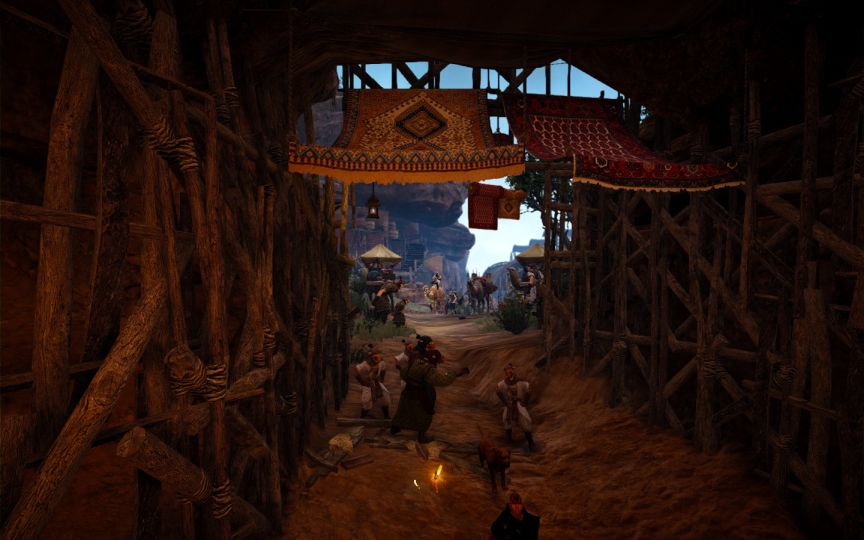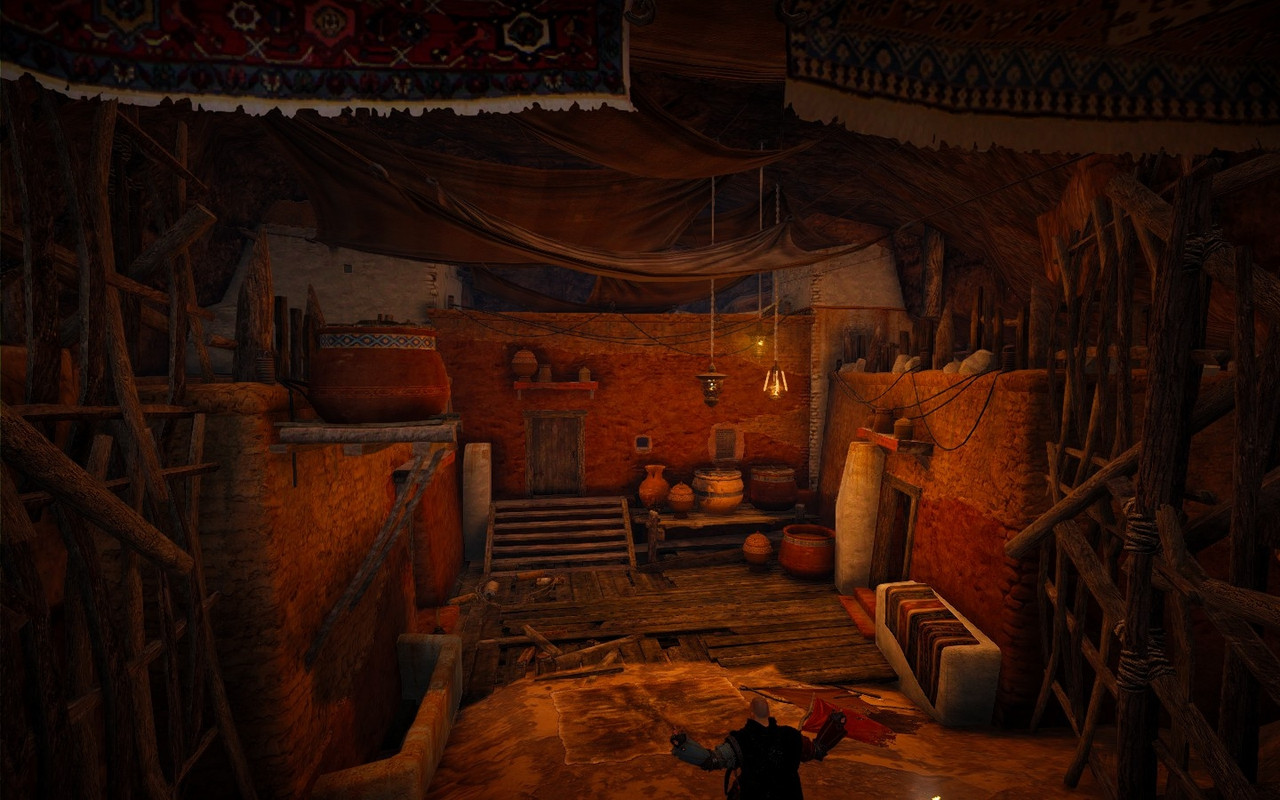 Anyway, disappointed with sand grain bazaar i purchased a camel and braved the desert...
Pretty soon i was dehydrated and hallucinating sunburst guitars in the sky and feeling like it was the 70's and also i couldn't remember my name, cause i was in the desert (where you can't), but despite my declining mental and physical state i have to admit the sight of endless sand dunes was quite......well it was boring, its just a fucking desert what did you expect. It's just sand, which i hate because it's coarse and it gets everywhere, it's just a dumb long desert and it's totally not black and it sucks and it's just there to piss you off, like all deserts ever. It was then that i became fully aware that this game was quite stupidly named as it is named after a desert which is not black amd in which there's pretty much nothing interesting to do at all and that wasn't in the original korean release of the game (it was a later expansion) and that as far as i know has no real relevance to the plot of the game. It's like if you'd named Zelda like..Lake Hylia or something. Tht's without mentoning..why Online? There's never been a Black Desert NOT online game. So just call your game Black Desert. They didn't put the online in Elder Scrolls Online for fun. It's to tell you it's an Elder scrolls game that's a MMO (well it's also not really an elder scrolls game).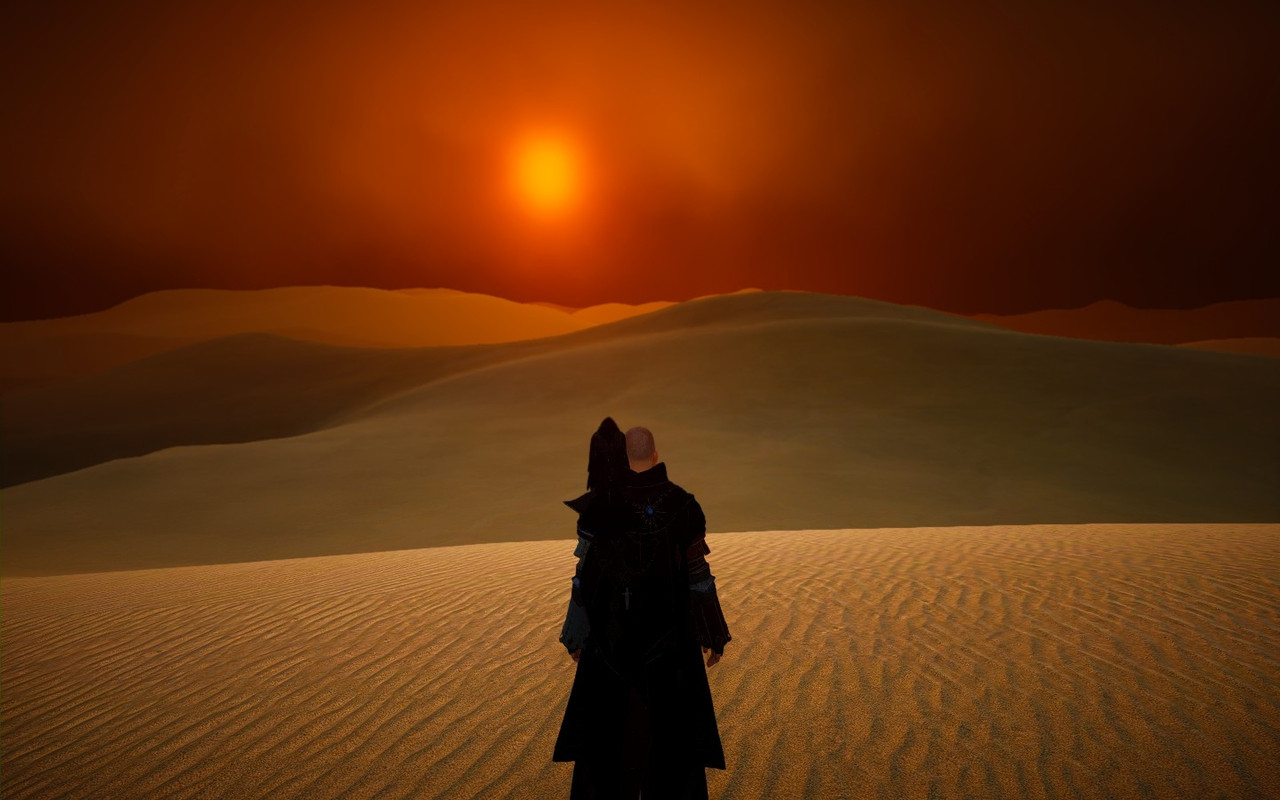 I went further in enough to take a pic with my camel (yes i normally rode it but somehow i have no pics of that, you can ride your horse in the desert (the game doesn't allow you to ride any horse with no name though) but it can't sprint. However I found the camel sprint to be about as fast as a non sprinting horse so i'm not sure what's the point and so i never bothered with the camel again....well i guess it can jump, which the horse can't in a desert but being that it's a desert.....why would you need to jump? (i lie a little there's some rocky sections on the outskirts but still)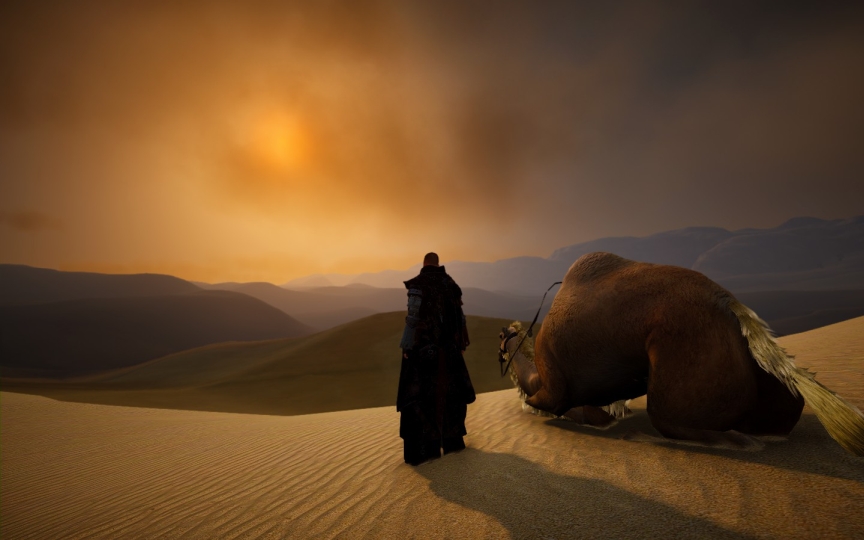 I then decided to turn back around and make my way towards THE MYTHICAL DESERT CITY of Valencia city by going around the desert instead of through it. Which yeah, you can except it's a much longer way but it's also visually a lot more interesting (i'm skipping from my narration here all the countless quests i did at every turn, or the myriad of enemies slaughtered, though in the desert even enemies are scarce).