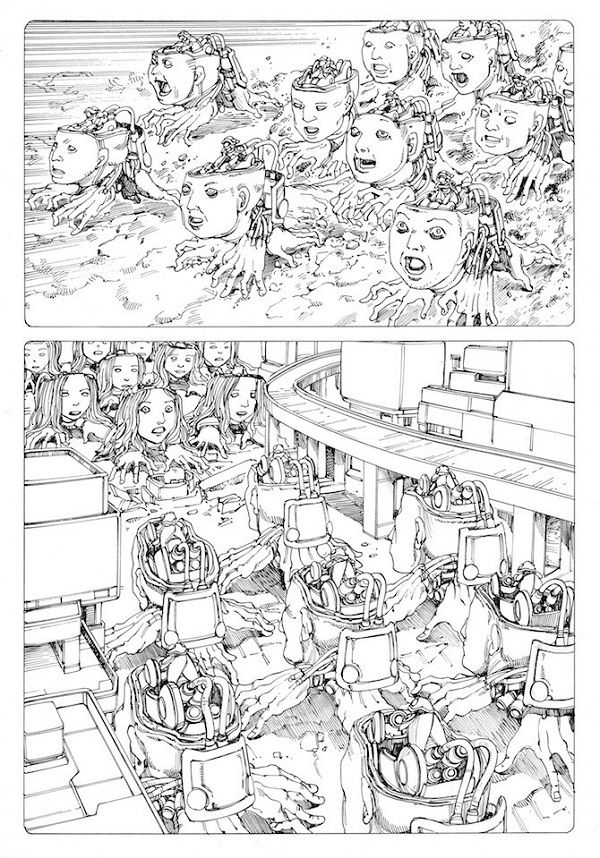 Industrial Revolution & World War
by Shintaro Kago
Warring societies of hamsters and crickets do battle by scavenging body parts from the feral humans they dig up, and turning the carcasses into tanks and construction equipment to build their cities. This isn't really much like the more formalist, boundary-pushing stories that first made Kago infamous, except that it shares those stories' depiction of a cruel, nonsensical world where the usual structures and social niceties either don't apply or are turned into farce. Kago's precise, architectural-like drawing makes the grotesque imagery of this story - which is totally silent but always very clear in its ideas - even more unsettling because there's such absolute clarity about it.
Day of the Flying Head #1
by Shintaro Kago
If anything this makes Kago's intent for social parody even more apparent, as industrial waste, dumped in rivers and winding its way into the food supply from there, triggers a disease in which people's heads separate from their bodies, trailing all internal organs like a tail, and become aggressive and violent. It's another silent story with the emphasis squarely on Kago's wild and gory images. This one is the first issue of what's going to be a 4-issue series. Both of these books are published by the Italian Hollow Press, and it's great to see at least somebody making Kago's work available in the West, even though it's still baffling to me that nobody ever did a proper English collection of the stories like Abstraction where he really plays with form, because there's nothing else in comics like those.
Scorched Earth
by Tom Van Deusen
Absolutely hilarious, willfully nasty comics loosely purporting to be autobiographical but presumably - and hopefully - really aren't. Here's an artist who very much exists within the tradition of 80s/90s alt "guy" comics, like Noah Van Sciver who I've talked some shit about recently, but who manages to avoid seeming like he's disappearing up his own ass just by being a really incredible comedic writer whose characters, however caricatured they are, actually feel like they have a core of truth to them. Here, his stand-in Tom searches for easy sex on internet dating sites while spewing an absolutely astonishing variety of horrible ideas at every opportunity. It's over-the-top, unrelentingly cynical, and really really funny.
Showtime
by Antoine Cosse
Interesting new GN from Cosse, his follow-up to
Mutiny Bay
. Like that one, this is dreamlike and odd, as much about how the story's told as what it's about. Here, layers of artifice pile up separating readers from the story of a mysterious magician who disappeared years ago after a trick had some unintended consequences, and who's now about to stage a comeback. Cosse hides the real story behind misdirection and framing stories within framing stories, creating really neat effects with inset panels that take place on different levels of the storytelling. All the showy stagecraft involved in unfurling the tale of course dovetails nicely with the core narrative about the magician. The book is gorgeous, full of rich ink washes and beautifully cartoony characters. Cosse's art just keeps getting better and he's also getting bolder with abstraction and using minimalist, really unique layouts that often eschew panel borders and let the tiny images float in acres of white space. The story never quite feels like it goes anywhere, which has been a problem I've had with Cosse's shorter works before, and I don't feel like this is on the level of
Mutiny Bay
or his sci-fi short in
Now
#1 but it's still very intriguing.