Raymond Briggs –
Fungus the Bogeyman
I've recently been revisiting a select few classics from childhood and was prompted to take another look at this, which was formative for me when I was very small – something to do with the downbeat Englishness of it, the joy taken in slime and being ugly. Going back, it's even more beautiful than I remember it, with the world of these sturdy green figures in WWI fashions rendered with such a complete imaginative conjuring and a thick comforting miasma over everything. Also I realised for the first time that this book is the reason I found Shrek so unnerving when I was a kid. There was definitely some kind of connection in my mind between these two characters, and Shrek must have subconsciously hit me like a very intense, Disneyfied version of Fungus, like the volume had been turned up way too loud.
Ho Che Anderson –
Scream Queen
This is my first Anderson, just found randomly online and clearly a minor work. It reminded me of the shadowy early works of Bendis and Hickman, taken to another degree of abstraction and with a staticky hiss to the line. The tale is blown-out, noirish with a paranormal edge, following a mysterious woman as she travels through the desert to take revenge on a man. It's not bad but probably not worth seeking out.
K. C. Green –
Fuck-Off
One of my favourite cartoonists K. C. Green just started up a new instagram account for a series of one-panel New Yorker parodies and I wanted to bring it up for anyone else who follows his work. I've yet to get a handle on what exactly he's doing here but it has a fun cut-up quality to the jokes, which seem to land just outside comprehensible punchlines like
Wally Gropius
but I actually enjoy these for some reason. It definitely helps that Green's cartooning is so naturally funny. His characters and compositions are so cute and goofy that every panel is enjoyable purely on those merits.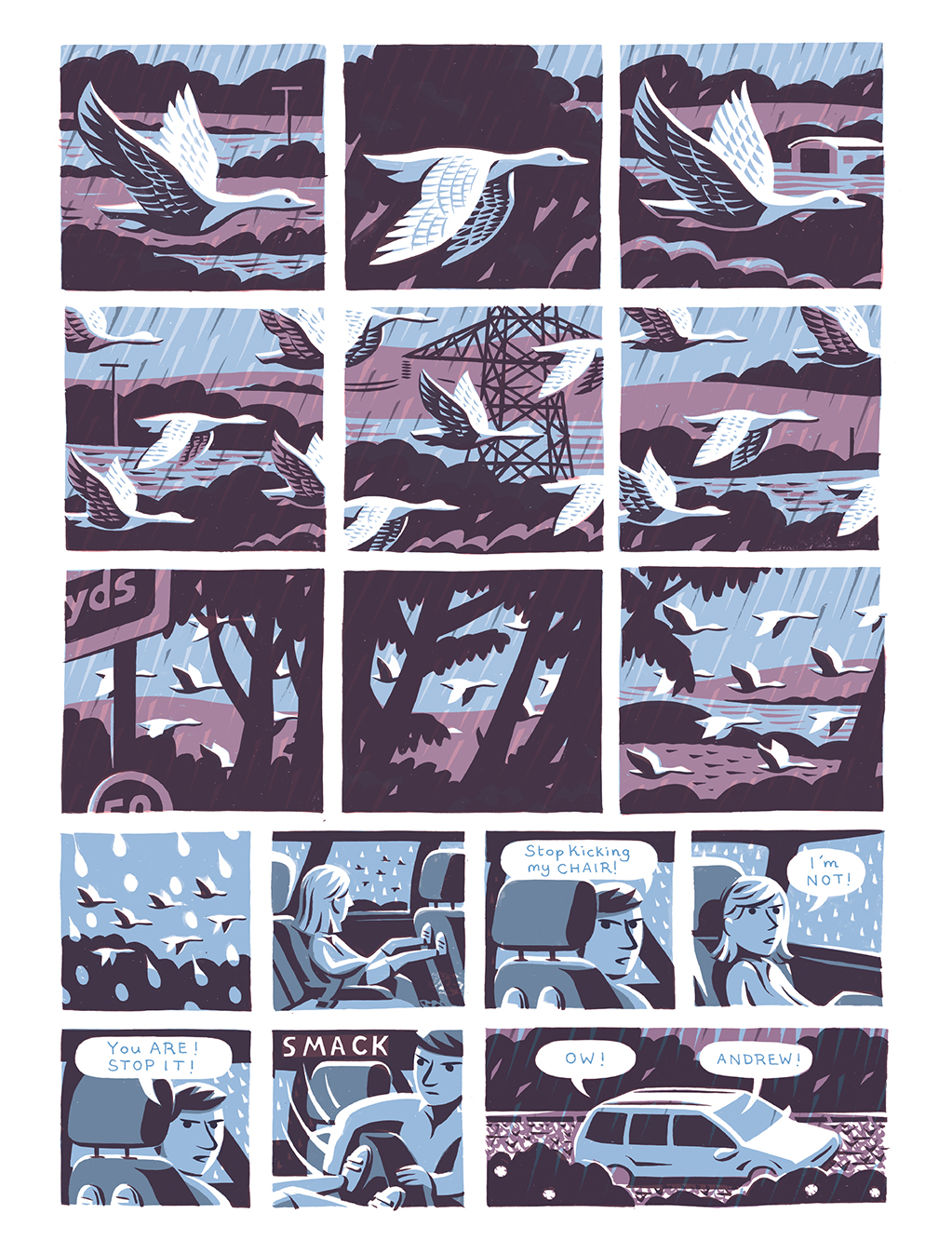 Jon McNaught –
Kingdom
This is a really beautiful Nobrow production from last year, definitely cracking my revised top 20 if not the top 10. It's primarily a mood piece, exquisitely summoning a boring caravan holiday for a small British family. It's full of beautiful exercises in montage and tone, using single colours and an incredible eye for visual detail to really bring you to a physical place better than anything I've read in a long time. The drama here is very very quiet but the mood is so loud. Highly recommended.