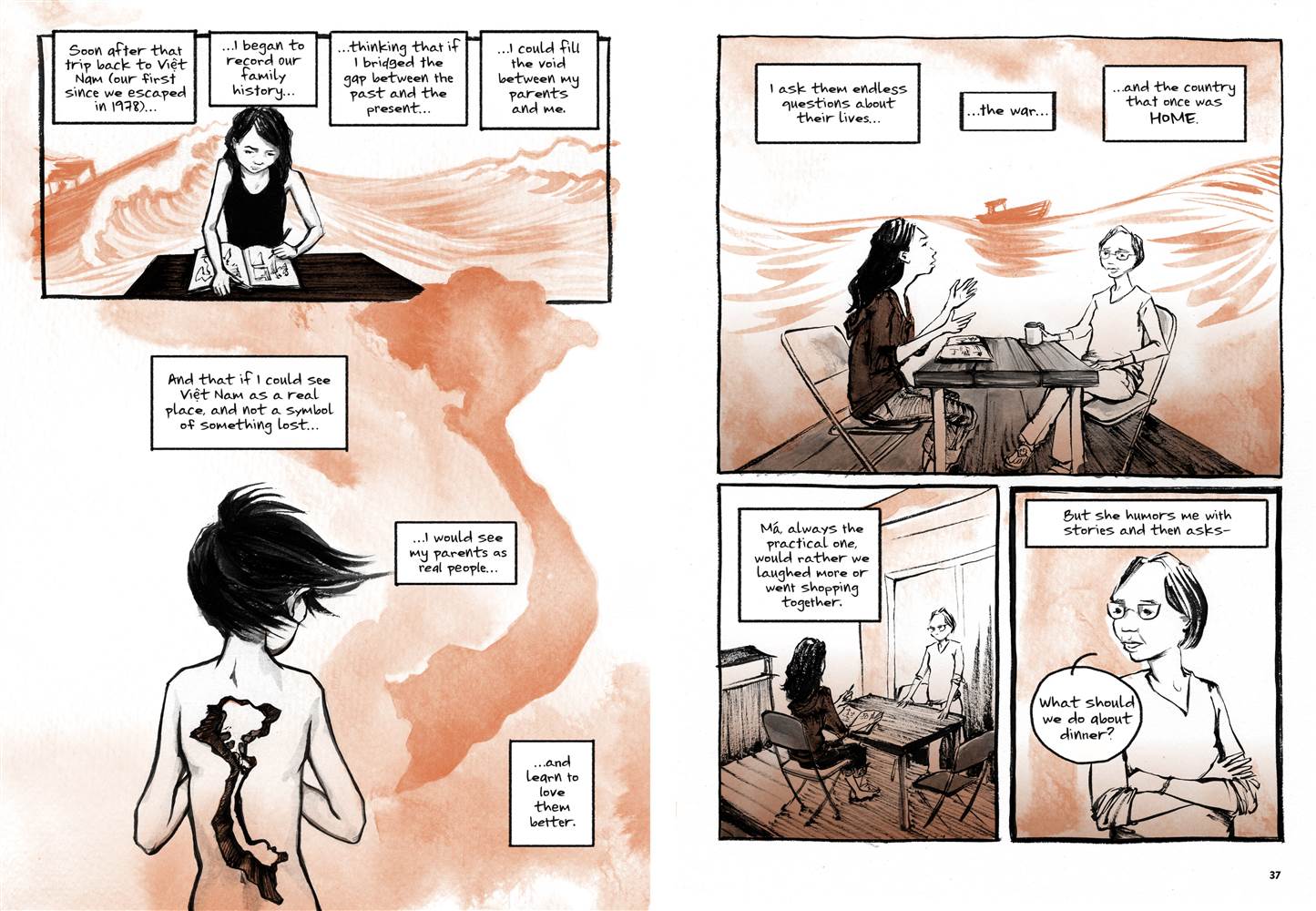 Thi Bui -
The Best We Could Do
This is not the sort of book that would normally catch my eye, but I'm glad it did. Thi Bui tells the story of her own childhood in California as a child of immigrants, and then delves back into family history, watching the very different ways her parents grew up in Vietnam and started having babies as the war reached its crescendo and they were forced to flee for Malaysia. The story is told straightforwardly, and doesn't get into the politics beyond how they affect things on the ground level, which makes sense as her family were in some senses on the losing side. The art also is simple, done with spare, shaky brushstrokes and a monochrome colour palette. It's just a fascinating, unusual story, told with great empathy, which really brings to light the subtle effects of trauma and dislocation.
4/5
Etienne Davodeau -
The Cross-Eyed Mutt
Part of "The Louvre Collection", a weird initiative that asks comics creators to produce work based on the museum. They've had some proper big dogs on this: Jiro Taniguchi, Enki Bilal, Nicolas de Crecy, and David Prudhomme, whose
Cruising the Louvre
I reviewed upthread. Davodeau's book is the story of a Louvre security guard who meets his new girlfriend's somewhat oafish family for the first time. On hearing that he works in the Louvre, they task him with finding a space in the museum for a family heirloom: the great-great-grandfather's painting of a cross-eyed dog. This is a very pleasant French drama, low key and low stakes, similar to Davodeau's previous book
The Initiates
. Halfway through it takes a weird turn into secret societies, which is a confusing development, but remains a sweet and relaxing book to spend time with and, I have to admit, it's pretty interesting to see these artists work with the Louvre as a setting. They really pay attention to individual pieces, and it lends each book an interesting subtext about how art interacts with modernity.
3/5
James Tynion IV & Jeremy Rock -
The Eighth Seal
One of the random bits of flotsam from the 0-day threads. The President's wife keeps hallucinating that she's turning into a demon, and it turns out she's probably right, and also that the President's Chief of Staff is the head of an ancient doomsday cult that's somehow controlling her. As usual from Tynion, it all feels distinctly cheap and shoddy, even though that's usually a quality I'd associate with art rather than writing. Jeremy Rock does well with the monster bits (the page above is probably the best page in the book), and seems to have a Gene Ha/Jacen Burrows influence. At other times, the oval office looks like a windowless cell, and the figurework seems amateurish. Also, it just ends with a cliffhanger right as things are kicking off, despite giving all appearances of being a complete story. Real hack work.
1/5