SETTING:
January, 1995. Los Angeles County Superior Court.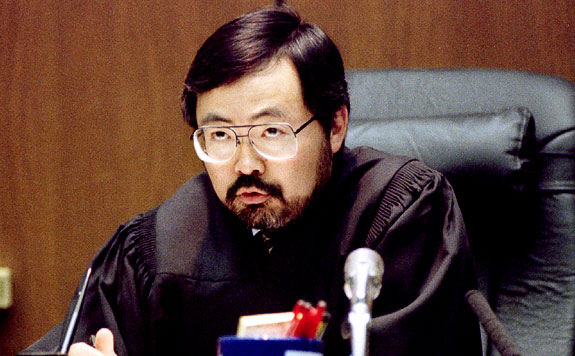 Justice Lance Ito is presiding. Court is now in session.
RULES:
-No screenshots.
-No discussion of private mod communication or role assignment PMs.
-No anonymous e-mails.
-No copy/pasted Slack or PM transcripts.
-No personal attacks outside of the confines of the gameplay. Don't be an asshole.
-Try to post AT LEAST twice per day phase: once to vote, and once to speculate, accuse, RP, or what you will.
-Will try to do one day/night cycle per day in the early stages but they'll get shorter as the game gets into the late stages.
-Slack will be the HPNWW slack so if someone can give me mod powers on there that'd be greatly appreciated.
Trying to get about 25-30+ people playing this game.
THE PEOPLE:
Kato Kaelin - SQUATTER -
This F-List Hollywood cliche isn't good for anything other than getting stoned and staying at the party too long. Three times per game, Kato can squat in another player's house. If Kato is the day's lynch, then the player he squats on will take his place. Bummer.
Marcus Allen - WORST DUDE -
Thanked OJ for his mentoring at USC... by fucking his wife. Ugh... who does that? Each night, Marcus Allen can pick one member of The People to protect. If that player is lynched the following day, the final player to cast a vote for the protected player will be lynched instead. Marcus Allen cannot protect the same player twice in a row, and cannot protect themself.
Dennis Fung - BITING WOLF -
This dimwitted forensics specialist is nothing if not sloppy. He does, however, have a particular talent for convincing people to help the LAPD. Once per game, Henry can turn a Simpson player to LAPD by biting them twice. Players will not know they were bitten, but after the first bite, Dennis Fung's identity, along with three random players, will be given to Barry Scheck.
Chris Darden - MINION -
Chris Darden does not know the identities of The People, but The People know his identity. The People are forbidden from revealing themselves to Chris Darden.
Marcia Clark - SORCEROR -
Cold and calculated, Marcia Clark can scan any player with 100% accuracy. So if Marcia scans a player who Fuhrman is framing that night, she will still see their true role. Marcia Clark does not know the identities of The People at the start of the game, but is encouraged to seek them out.
LAPD - WOLF -
These crooked pieces of shit are regular wolves.
OJ SIMPSON:
Al Cowlings - BEST DUDE -
A true friend who would follow OJ to the death. Each night, Al Cowlings can pick a player to protect from a night kill. If The People attack that player, Al Cowlings will die, taking down a randomly selected member of The People with night killing abilities (LAPD, Kato Kaelin, Marcus Allen, Mark Fuhrman, or Dennis Fung) along with him. Cowlings cannot protect the same player twice consecutively, and can only protect himself once per game. If Cowlings protects himself and is attacked, there will be no night kill and no retaliation kill that night.
Johnnie Cochran - SEER -
Johnnie Cochran is a standard seer. Cochran can scan one player each night and will get a reading of The People or OJ Simpson.
Robert Shapiro - BACKUP SEER -
Robert Shapiro takes over as seer if Johnnie Cochran dies.
F. Lee Bailey, Alan Dershowitz - MASONS -
These law machines are the masons.
OJ Simpson - ELDER -
A hall of fame running back, this man won't get taken down so easily. It takes two attacks from the wolves to kill OJ Simpson, and three bites from Dennis Fung to convert him.
Citizen - VILLAGER -
These are regular villagers.
NEUTRAL
Homesick Juror - TANNER -
Alright, fuck this shit. Juror has been away from their family for months. This trial isn't stopping anytime soon. The Homesick Juror's win condition is to be lynched during a day phase. If they succeed, they must kill someone who voted for them in retaliation. If they do not submit a choice to the mods by the end of the next night phase, a random voter will be selected.
If the Homesick Juror dies as a result of getting squatted on or being the last vote on a worst dude protected player, they would not have died as a result of a lynch, and will lose.
Barry Scheck - BOUNTY HUNTER -
Barry Scheck isn't the star of the defense, but he plays a very important role. Barry Scheck's win condition is to identify Dennis Fung. During any day phase, Barry Scheck can attempt to identify Dennis Fung. If he is successful, Fung will be removed from the game, and the day phase will turn to night. If he chooses incorrectly, he will lose, and will be removed from the game, although the day phase will not end. If Dennis Fung bites a player, Barry Scheck will be presented with a list of four players, one of whom is the real Dennis Fung. Scheck is STRICTLY FORBIDDEN from discussing this list with any other player or revealing this list in public, and there will be serious ramifications for doing so.
VOTING:
During a day phase, vote to lynch a suspected Werewolf by placing their name in bold and red
Code: Select all

[b][color=#FF0000]ecto[/color][/b]
To rescind a lynch vote already cast, place the name in bold and green
CODE: SELECT ALL
Code: Select all

[b][color=#00FF00]ecto[/color][/b]
PLAYERS:
Ampersand
Stakeout
lordofdiapers
VHB
mudd
kit fox
metersk
narc blossom
Ankh
john plainman
Mr. Science
Geoff
Ted Pikul
pantsoclock
The Emperor's Son
inspectorhound
Casimir
laserblast
wendybird
separator
Catullus
grammatron
THE STORY SO FAR:
N1: The People killed inspectorhound, who was Marcia Clark.
D1: The village voted no kill.
N2: The People killed kitfox, who was Alan Dershowitz.
D2: Grammatron died as a citizen.
N3: The People killed stakeout, who was a citizen.
D3: Barry Scheck identified Dennis Fung- VHB.
N4: The People killed mudd, who was Johnnie Cochran.
D4: LA County voted to lynch Ampersand, who was a citizen.
N5: The People killed casimir, who was a citizen.
D5: Marcus Allen sacrificed pantsoclock, who was a citizen.
Toggle Spoiler